My Strategic Chair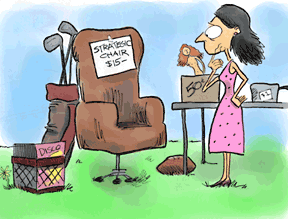 When was the last time you took a break from your frantic pace to perform a strategic review of your service effectiveness? Granted, itís hard to get away from the daily exercise of your hustle muscles. Yet, to successfully conduct a strategic review, you need the right environment. Otherwise, youíll be distracted by that menacing to-do list and you wonít be inspired by Grand Ideas.
I recommend going off-site to do big-picture thinking. Iím especially fond of high-altitude strategic review sessions. With my skis strapped on. Gorgeous scenery. Sunny skies. The wind in my hair. Gravity propelling me downhill through pillow-soft snow.
If you canít get away, the next best thing is to create a conducive environment on-site. For some people, a conducive environment means an uninterrupted block of time for reflection. For others, itís having the right people involved so as to maximize idea generation. I know what has helped me. A chair. Really. A chair that helps me think strategically.
I was very fortunate to find it, because you canít always find just the right thing at a yard sale. This chair was a mere $10, negotiated down from $15 by my husband, Mr. Never-Pay-the-Posted- Price. It was an unplanned expense, but that was OK, because I already had a column for unplanned expenses in my where-the- money-went spreadsheet. I wouldn't have needed an unplanned expense column if Iíd been doing my strategic planning. But I couldnít do effective strategic planning till I had the chair.
This isnít the sort of chair ergonomic gurus recommend for long stretches at a keyboard. No, this was a deep, high-back, swivel-tilt chair. Initially, the swivel-tilt feature left something to be desired, because I could neither swivel nor tilt. The problem wasnít me; it was the floor. It was too far away for me to reach (while seated, that is. I can almost already reach the floor when standing). But a footstool and assorted cushions enabled me to swivel, tilt and roll around my office, all of which inspire big-picture thinking.
The magical thing about this chair is that when I sit in it, I feel strategic. When I sit in my proper-back-support chair, the one designed for banging the keys, I feel like banging the keys, not doing visionary thinking. But seated in my Strategic Chair, the ideas flow, and my long-range planning actually extends beyond what Iím going to do after lunch. If someone calls when Iím in this mode, I explain that I canít talk now, Iím in the middle of a strategic planning session. It really impresses people.
Based on my success, Iíd strongly urge you to get your own Strategic Chair. Ask around for the names of yard sale vendors in your area that can offer you corporate accounts. Evaluate vendor offerings in terms of functionality, comfort and spin-worthiness. Oh, and make sure that youíre authorized to approve purchases in the double-digit range.
Whether or not you can create ideal conditions, make the time to assess your service success and plan for the future. Otherwise, youíll be forever in a reactive mode. Determine whatís working well, and take a hard look at whatís not and what need to be done about it. Analyze what you want to change and what you want to keep the same. Contemplate where you want to be six months or a year from now, and identify what you need to do to get there.
In doing this, be flexible. For example, I donít especially like the color of my chair. But strategic beggars canít always be strategic choosers. Not a problem, though, since I barely notice the color while swiveling. Wheeeeee. . . . .
Text and graphics copyright © 2009 Karten Associates. +1-781-986-8148, www.nkarten.com

PREVIOUS ARTICLE | NEXT ARTICLE | BACK TO NEWSLETTER PAGE

For permission to reprint, contact me at +1-781-986-8148 or by